Shia Muslims were seen mourning and performing the ritual of self-flagellation on Sunday during a Muharram procession on Youm-e-Ashura.
SRINAGAR (J&K) —
Amid the shadow of COVID-19, Shia Muslims marked the holy day of mourning in Kashmir valley on Sunday. Hundreds of Shia Muslims were witnessed performing the flagellate acts during various Muharram processions across the valley.
One such locality in the South Kashmir's Pulwama district where the acts of flagellation, which are a symbolic re-enacting of the blood-shedding of Imam Husain ibn Ali, are performed is known as Gangoo village wherein mostly Shia Muslims reside.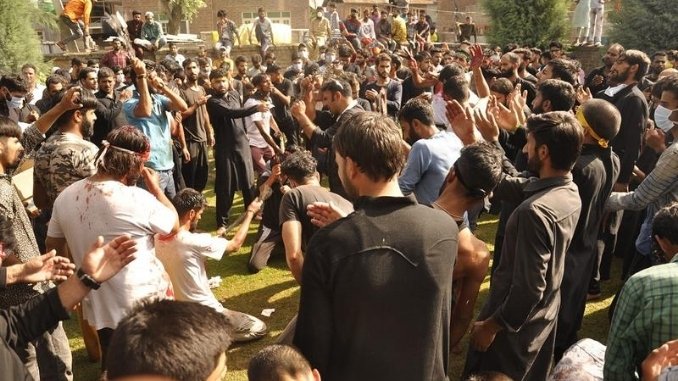 Shia Muslims were seen mourning and performing the ritual of self-flagellation on Sunday during a Muharram procession on Youm-e-Ashura. Importantly, the Day of Ashura falls on the 10th of the Islamic month of Muharram and is preceded by days of commemorations and remembrance.
However, the restrictions imposed by the government authorities in view of increasing cases of COVID-19 have stirred violence as Jammu and Kashmir Police and paramilitary forces had to resort to firing teargas canisters and using pellet shotguns at several places in Srinagar and Budgam since Friday to stop Shia mourners from participating in Muharram processions.
Consequently, dozens of mourners were injured, of whom several received pellet injuries. Several persons have also been detained over the past several days.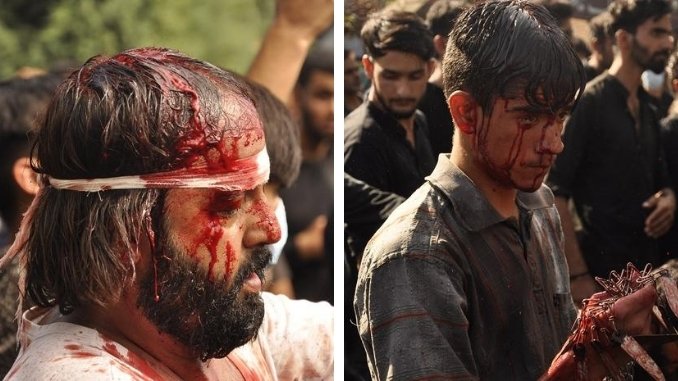 National Conference leader and influential Shia cleric Ruhullah Mehdi described the police action as unacceptable. "I may have my own opinions about processions and SOPs related to it. But this rogue behaviour in the shape of flexing muscles and firing on mourners is unexpectable," he said.
Many political parties in Kashmir also condemned the police action on religious processions in Srinagar and Budgam.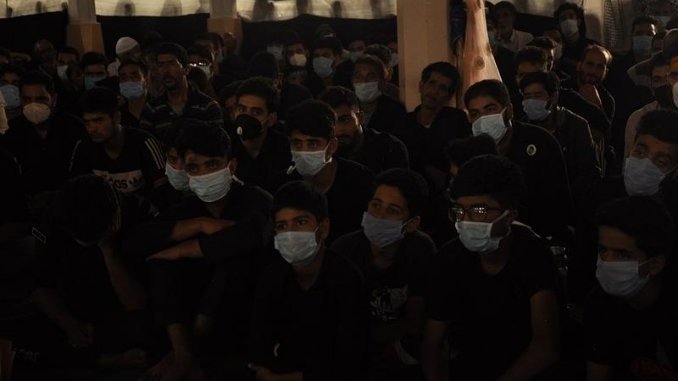 Security forces say that they have been trying to thwart Muharram processions. They said Shia mourners violated prohibitory orders that bar all religious processions to prevent the spread of the Coronavirus.
Pertinently, Ashura commemorates the seventh-century killing of Imam Hussain, the grandson of the Prophet Muhammad, in the Battle of Karbala in present-day Iraq with the army of then Caliph Yazid, to whom Hussein had refused to pledge allegiance.
The public expressions of communal mourning are generally associated with Shia Muslims. The event is observed by many Sunnis, but to a lesser extent, and as a time of remembrance, rather than mourning.
**
Dil-Paziir (Urdu; meaning 'heart-pleasing') is a special edition news series brought to you by Digpu, sourced from conflict areas starting from Kashmir. Our local journalists have successfully shared many inspirational stories from the valley – from the invention of E-Charkha, automatic ventilator in Kashmir, stories of brotherhood through to the first-ever cricket tourney for Blind sportsmen, all the stories make us awe-struck.
The post In Pictures: Mourning of Muharram observed in Kashmir appeared first on Digpu News Network.